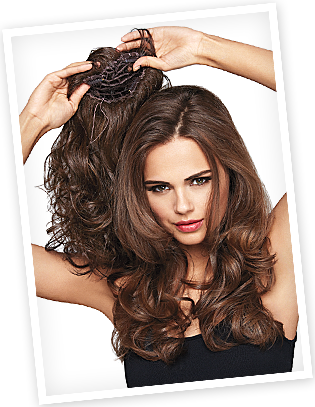 Clip-in hair extensions are the #1 choice for adding length, volume and color to your own hair! They can transform your look by giving you longer, fuller hair in a matter of minutes. There are several advantages and benefits to clip-in extensions. That's why they are the most preferred method of hair enhancement by stylists and home users alike.
Clip in hair extensions
are easy to apply and temporary. Application takes a matter of minutes. They attach using pressure sensitive clips so they don't cause damage to your hair. More permanent methods of applying hair extensions can be very damaging; the glue and application methods used can cause breakage, even hair loss.
A quality set of clip-in extensions costs less than expensive and time-consuming trips to the salon. They can last substantially longer and require les maintenance than more permanent methods. Best of all, you can take them in and out whenever you want to change yp your look at a moment's notice.
Clip-in hair extensions are the perfect solution for a quick and easy change of hairstyle. Use them to add length and volume without waiting for your hair to grow out, add highlights by choosing a lighter color without changing your own hair, and even add bangs without a haircut. Enhance your own hair with a set of clip-in extensions today. Just clip-in and go!
Shop All Clip In Hair Extensions ►
• Easy to Apply
• Low Maintenance
• Damage Free
• Temporary
• Cost Effective

If I have short hair
(hair that is 6" - 10" from crown to ends, or chin length or shorter)
the best length of extensions for me is 10" - 14"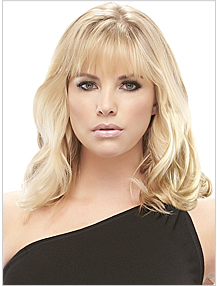 If I have medium hair
(hair that is 11" - 14" from crown to ends, or chin length to collar bone length)
the best length of extensions for me is 14" - 18"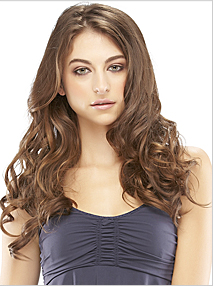 If I have long hair
(hair that is 15" or more from crown to ends, or past the collar bone)
the best length of extensions for me is 18" or more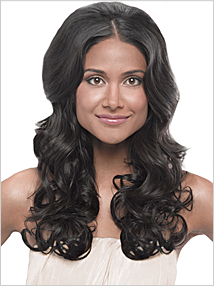 Back to Top
When choosing a texture of clip in extensions you will want to consider how you wear your hair most often. It is wise to choose a texture of extension that is close to your own natural hair texture. Keep in mind that human hair can be styled to match any curl pattern, so If you change your hair often from straight to curly or vice versa, human hair is the right option for you.
If you want the best, it doesn't get better than
human hair clip in hair extensions
. They look and feel the most natural, last the longest and provide the most styling options. The hair can be styled with heat tools, even colored. The highest grade human hair clip on extensions are Remy human hair. Remy hair is minimally processed with the cuticles intact. The result, hair that is shinier, healthier and virtually tangle-free.
Clip ins offers a price friendly option to human hair clip extensions. Synthetic hair is not affected by the weather so it's a great option for special occasions. If you've never worn hair extensions you may want to try them out first before investing in human hair clip in extensions. Synthetic hair usually last between 1 to 3 months before you start to see wear.
1 Piece extension systems are simple to attach and offer an instant hairstyle in a snap. 1 piece systems come in a variety of lengths, our most popular for adding length are made by hairdo. EasiVolume by easihair are also popular 1 piece systems made specifically for volume. Perfect for beginners, anyone can wear without practice or experience.
2 piece extension systems generally consist of 1 wider piece which clips in high and 1 smaller piece that clips in at the nape. Similar to the 1 piece system, they are easy to apply and perfect for beginners.
8 piece and 10 piece systems come with varying widths of wefted hair that are positioned from smallest to largest working from the bottom. Multi piece systems offer the most styling versatility. Application takes some practice. Perfect if you have some experience with clip in hair extensions.